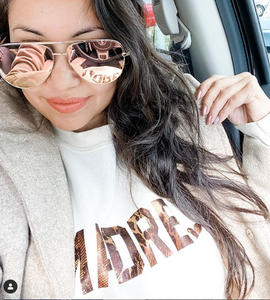 I am IvyLove
IvyLove is a signature brand I started unknowingly, in high school, when friends and family requested my hand-drawings, now known as #ivylovesketches, painted on their shoes, backpacks and tees. 
In 2000, I became a single mom at 17, right after graduating high school, and though I had other jobs through the years, the brand slowly grew through word of mouth, long before social media existed.
 It is thanks to friends and family, and the drive to be home with my teenage daughter (now a 20 year old USC student), that I was able to quit my 9 to 5 in 2014, to grow ivyLove full time and make it my only source of income, as a single mama.
Although the brand has come a long way and most of my collections are now silk screened, I still give it a personal touch by blending and creating my own custom inks and incorporate my hand drawn art into each collection, to give my customers an exclusive design they can not find elsewhere.
I "sign" each piece with my signature heart, found both on the design itself, as well as the back of every tee, and on the sleeve ---The same spot where I have an ivyLove heart tattooed on my arm.
I am now a second-time mama to the coolest, most curious little dude who has challenged me to continue building this brand while nursing full time, and though I've done this once before, this second chance, 20 years later, has come with a new set of learning experiences-- Luckily, I now have a community of business women, some who are also mamas, whom I celebrate every year on my birthday through my annual #ivyLoveWIB events, where we come together to showcase our brands, our vision and our hearts.
Through every personal and business setback, these women remind me that ivyLove represents more than just tee shirts; It is a testament that just like raising children, building a brand also takes a village. <3
Testimonials
I received the shirt yesterday and it's gorgeous! Soft and the printing looks amazing. Great quality!

Melissa